February 27th, 2017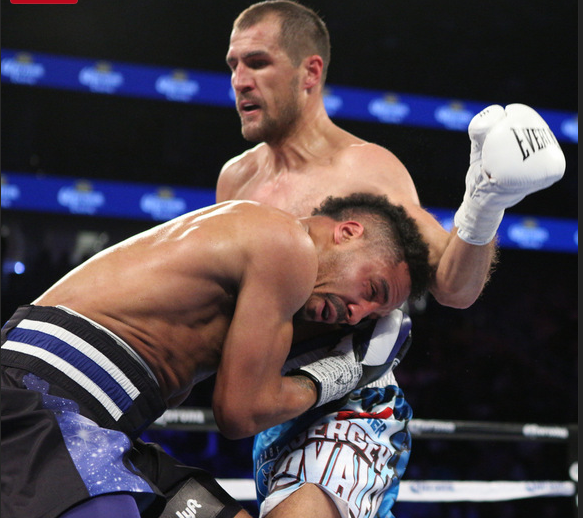 By Jeff Aranow: The promoters for IBF/WBA/WBO light heavyweight champion Andre "SOG" Ward
(31-0, 15 KOs) and former 175 lb. champion Sergey "Krusher" Kovalev (30-1-1, 26 KOs) have reportedly begun talks for a rematch between the two fighters, according to RingTV.com.
There is no deal as of now. Hopefully that will change in the near future, as the boxing world is very interested in seeing Ward and Kovalev battle it out once again. Ward has talked about wanting the rematch to make sense for him.
Kovalev's promoters at Main Events have exercised their rematch clause for the Ward fight. There can reportedly be no interim fights before the Ward-Kovalev rematch. Kovalev's promoter Kathy Duva said that the terms of the rematch are in the original contract.
Ward, 32, beat Kovalev by a close 12 round unanimous decision on November 19 last year on HBO pay-per-view. Kovalev's promoters at Main Events had a rematch clause in the contract. Ward likely would have given Kovalev a rematch even without the rematch clause, as he recognizes the fight as the biggest one in the 175 lb. division right now.
It wouldn't make sense for Ward to fight anyone else other than Kovalev, given the amount of interest from the boxing public, as well as the money to be made off the fight. The Ward-Kovalev fight wasn't a particularly exciting one last November, as both fighters did a great deal of holding and wrestling.
The referee was there in body only, but he did little to control the grappling on the inside. There was actual fighting going on in the first two rounds, but after Kovalev dropped Ward in the 2nd, the fight turned into a stand up wrestling match for the last 10 rounds. Despite the lack of fighting between Ward and Kovalev, the boxing fans still want to see them go at it again. The fans can only hope that it's more entertaining fight.
The T-Mobile Arena has already been booked for June 17 for the Ward-Kovalev rematch, according to Ring TV. The rematch will be on HBO pay-per-view like the previous fight.
With only 4 months to go before the June 17 rematch, there isn't much time for Kovalev and Ward's promoters to work out a deal. If the negotiations stretch out too long, then the June 17 date will need to be moved to a later date.
It should be interesting to see if the Ward-Kovalev fight gets made this year. It's hard to imagine Ward not taking a second fight with Kovalev and just retiring rather than taking the fight. Unless there's a referee that enforces excessive wrestling, Kovalev is going to need to work on his grappling skills to try and figure out a way for him to throw punches on the inside.