With a change in pitch curation likely following Pune's dry and inconsistent track, Steve O'Keefe and Nathan Lyon will need to find further inspiration in Bangalore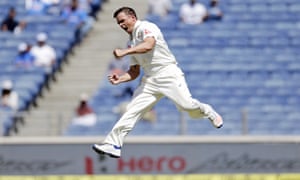 Steve O'Keefe celebrates the dismissal of India's Virat Kohli in Pune but the Australian spinner will have his work cut out in Bangalore. Photograph: Rajanish Kakade/AP

Frugal not flashy. Australia's Plan A for India centred on the core principle that they needed to walk in India before they could run. For batsmen, this meant adopting a conservative framework to cope in feverish spin-friendly conditions experienced in Pune. For bowlers, approaching their task on flatter wickets with an equally humble disposition, knowing that days in the field here can be more brutal than anywhere when quality batsmen are set.

Both eventualities were methodically mapped out in the Dubai camp that preceded the tour. Steve Smith's men trained daily on both the dustbowls that were a permanent fixture of their 2013 misadventure and flatties that were served up for England's five Tests here before Christmas. If Australia are to retain the Border-Gavaskar Trophy in straight sets, it is increasingly apparent that it will be the latter, more attritional theatre where they will have to prevail.
For Smith's now-celebrated spinners, it means a surviving a grind rather than enjoying a square-turning playground. There will be no seven-wicket collapses for just 11 runs. No one is taking 6-35 on consecutive days. Virat Kohli isn't watching a ball onto his stumps with shouldered arms. Not this time.
Not when local heroes are pleading for a change in pitch curation after central authorities intervened to prepare a track in Pune that Smith described afterwards as the driest and least consistent he's seen. Sunil Gavaskar and Sourav Ganguly, for two, want to see the luck taken out of it. Instead, they want their bats plundering Australia as they have so routinely here.
They know from England's visit – who twice made 400-plus batting first only to lose by an innings – that their outstanding slow bowlers are more than capable of making it count the second time around after their deep batting line-up has cashed in. In that series, Indian spinners still claimed 66 of 93 wickets.
For Steve O'Keefe, disbelief at what he achieved pervades local media coverage and the countless television panels that scour every inch of their national team. Australia's enduring nemesis, Harbhajan Singh, captured the cynical critique best: let's see you do that on a flat one, mate. Tough crowd, but not an entirely unreasonable challenge to mount.
O'Keefe is savvy enough not to expect that he will beat the inside edge with anywhere near the regularity that underpinned his 12-wicket rampage. He isn't talking like a man who is about to start drinking his own bathwater, either. As Cricket Australia's subcontinent spin consultant, Sridharan Sriram, explained, O'Keefe arrived with an "open mind" for all eventualities. "He was prepared to experiment, and prepared to try different things," Sriram said. "I think that's his biggest strength."
That O'Keefe sought out Sriram at lunch after a poor opening spell for some centre-wicket bowling practice while his team-mates ate and rested speaks to his dogged desire to do whatever it takes. The new test: retaining that spirit when the game situation is bleaker. Not allowing Bangalore to morph into a repeat of his first experience of Test cricket at Dubai in 2014 where Pakistan did what India will be striving to this week, breaking Australia through long partnerships in the unforgiving heat.
Those same demons exist for Nathan Lyon and are more pronounced again. Australia's No1 spinner was battered out of the Test side here in 2013 when MS Dhoni smashed a triumphant double ton, conceding along the way more than 4.5 runs an over. Upon his return to the team, Shikhar Dhawan was just as brutal smashing 187 from 174 balls. Lyon bowled with venom in Pune, but his confidence can only be tempered by an awareness of how this has played out for him before in this part of the world.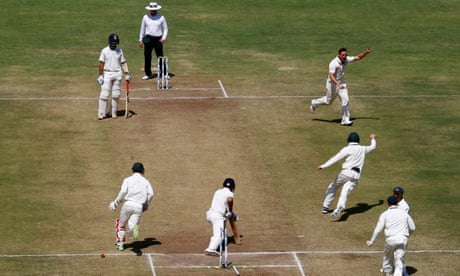 Steve O'Keefe takes 12 wickets as Australia thrash India inside three days
Read more
Both spinners can draw inspiration from an unlikely source in Michael Kasprowicz. Currently staying at the team's hotel as a Cricket Australia director, the veteran of three India campaigns became a specialist in this part of the world. Unlikely, for until then, he was a classical quick who pitched the ball up to move it away in the air in order to win edges. Through necessity, he became a master of dependably hitting the track hard and cutting the ball with his fingers even harder.
It was at the venue of this next Test where in 1998 he claimed 5-28 to nab a victory at the end of a brutal tour, highlighted by a change of pace to Sachin Tendulkar that brought a caught and bowled. The performance was emblematic of Kasprowicz's willingness for his game to evolve in a less fashionable way to get the job done.
It's a self-effacing quality that these spinners would do well to embrace when the ball stops turning through the gate.