February 27th, 2017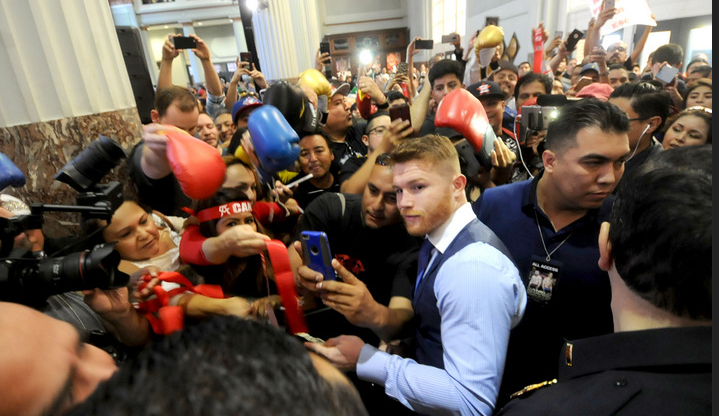 By Dan Ambrose: The May 6th fight between Saul "Canelo" Alvarez (48-1-1, 34 KOs) and Julio Cesar Chavez Jr. (50-2-1, 32 KOs) is viewed by Golden Boy Promotions CEO Oscar De La Hoya as the bigger fight than Canelo vs. Gennady "GGG" Golovkin. Canelo and Chavez Jr. will be fighting on HBO PPV at the T-Mobile Arena in Las Vegas, Nevada.
De La Hoya says there are only a couple hundred tickets remaining for the fight. He's calling a sellout right now. Canelo vs. Chavez Jr. probably will sellout well before May 6, but that doesn't mean that the fight is a bigger one than a potential match between Canelo and Golovkin.
It just means that some fans want to see that fight. De La Hoya sees it as a sign that it's bigger fight than Canelo vs. Golovkin. A lot of fans would disagree with De La Hoya on that belief.
De La Hoya says that Canelo-Chavez Jr. is a fight involving the "best fighting the best" in boxing, which is why he says it's a better fight than the Canelo-Golovkin fight. The reality is that Chavez Jr. is not seen as the best by the hard fans of the sport. Chavez Jr. hasn't been a world champion since 2012.
That's 5 years in which Chavez Jr. wasn't the best. Chavez Jr. is a contender at this point in his career, and it remains to be seen whether he'll ever win another world title. I don't think he will unless he targets a weaker champion at 168. Canelo and Chavez Jr. are fighting each other in a match-up that plays to their fan base in the U.S and in Mexico. I don't think it's a crossover fight, mainly because Canelo isn't fighting a champion or a guy that has done much in the last 5 years.
For all intents and purposes, Chavez Jr. might as well have retired in 2012, because his career has tanked bady since then. In the last five years, Chavez Jr. fought these fighters: Brian Vera [x 2], Marcos Reyes, Andrzej Fonfara and Dominik Britsch. Chavez Jr. made Fonfara look like a world beater in quitting on his stool after round 9 in their fight in 2015. Fonfara was knocked out in the 1st round by Joe Smith Jr. in 2016.
"We're going to see an action packed fight," said De La Hoya. "There are only a couple of hundred tickets left. The fact that it's a sellout crowd at the T-Mobile Arena is a good indication that people are anxiously waiting for the fight. I said before it's a great fight. I don't even have to promote this fight. There's so much poison between them. It's going to be a war. It's going to be like Barrera-Morales type of fight. That's going to be guaranteed. It could be the [biggest fight in Mexican history], because both guys can't even talk the streets of Mexico. They're like Royalty over there in Mexico. This is by far the biggest fight between Mexicans in the history of Mexican boxing. It has to be a good fight. I believe it's going to be a great fight. It all depends. What if it's a blowout? What if someone gets cut? If it's a great fight then why not [stage a Canelo vs. Chavez Jr. fight] again in September again? I've always said I want to keep my promise that Golovkin is in Canelo's radar and he's not afraid of him. So we'll have to see. This is a lot bigger. This is what I'm thinking now. The world wants to see the best against the best. The fact that you have Chavez, the biggest name in boxing, and Canelo, the biggest name in boxing, it calls for a great event. Golovkin, he's a tough middleweight. He's a strong middleweight, and that's what the fans want to see and it's going to happen," said De La Hoya.
I don't think the Canelo vs. Chavez Jr. fight is better than Canelo-Golovkin. How can it be bigger when Canelo is the clear favorite to beat the 30-year-old Chavez Jr? I can understand why De La Hoya might want to tell the boxing fans that the Canelo-Chavez Jr. fight is the bigger one, because he's got to sell the fight on HBO PPV. It's De La Hoya's job to market this fight to the fans. We saw how De La Hoya promoted Canelo's last fight against WBO junior middleweight champion Liam Smith by telling the media that Smith was the best of the champions at 154. The reality was probably a lot different.
Liam Smith fought like a fighter that wasn't even the 10th best fighter in the junior middleweight division. The fact that Smith gave Canelo a lot of problems is a reflection on Golden Boy's golden goose rather than an indication that Smith is the best fighter at 154. De La Hoya is going to need to keep telling the boxing fans repeatedly that the Canelo-Chavez Jr. fight is better than the Canelo-Golovkin fight if he's to make the fans start to believe that pipe dream. I don't think the fans are going to buy it. The problem with De La Hoya's opinion is that Chavez Jr. has been out of the loop for 5 solid years with his boxing career. He hasn't been fighting quality opposition on a consistent basis in all that time, and hasn't been seen by a lot of the casual boxing fans.
When you've been out of the loop for five years like Chavez Jr, then the fans forget about you. More importantly, the casual fans don't know who you are because they're not used to seeing you in fights. Chavez Jr. was just starting to get popular back in 2012 when he was beaten by Sergio Martinez. What Chavez Jr. should have done was continue fighting after he lost to Martinez. It would have been easy for Chavez Jr. to bounce back from the defeat if he'd continued fighting, and stayed at middleweight. He didn't do that through. Chavez Jr. took a bunch of time off from boxing, and when he can back, he wasted two fights against journeyman Brian Vera.
"He's a whole another fighter," said De La Hoya about Chavez Jr. "This is the second half of his career, and he knows it. He knows this fight is very important. This fight takes him back to the top. It could happen. It's a lot of money. I think that would be a slap in the face of fans [if Chavez Jr. fails to make weight]. I don't think he will do that. I think he's serious in showing everybody he's back. Chavez Jr. is a guy that just keeps coming forward. Chavez Jr. is a buy who makes himself smaller. It can be an advantage for Canelo. I don't know how heavy Canelo is going to get and be inside the ring. I don't know how light he'll be. I don't know how heavy Chavez Jr. will be. We'll just have to wait and see that night. Weight does play a big factor in this," said De La Hoya.
De La Hoya says he's not sure how much Canelo will weigh on the night of the Chavez Jr. fight. He's also saying he has to grow into the middleweight division. I thought that De La Hoya had stopped saying that Canelo isn't a middleweight in size. It's obvious that he's a big middleweight. He's said to be rehydrating into the 170s, and some people believe that Canelo is rehydrating into the 180s now. Canelo doesn't have HBO weigh him on the night of the fights like they do most other fighters. It's unknown why Canelo Jr. doesn't weigh-in for HBO, because it shouldn't be a big deal for him unless he's not comfortable with the boxing public knowing how much he weighs on the night of his fights. I don't see why Canelo would be averse to the boxing fans knowing what his weight is unless he has something to hide.
"It's definitely not about money that's for sure," said De La Hoya about the Canelo-Chavez Jr. fight. "This is about pride and honor. The reason why we made this fight is because nonstop action. These are two fighters that don't know how to go backwards. There's a lot of pride at stake, a lot of honor at stake. We're very pleased with the response from the people and the press. No doubt about it. This is the time now, 2017. Boxing is back on top. That's the plan all along. We need Canelo to be a full middleweight. It's [Chavez Jr. fight] is going to help [prepare Canelo for Golovkin]. When you have Chavez, and he's big and strong, but he didn't fight him for that reason, but obviously it's going to help him with the weight issue. This fight is going to have guaranteed action. These guys genuinely don't like each other. The fact that they're Mexican, the fact that they have a brawling style, there's so much at stake – honor and pride. It just calls for a great fight," said De La Hoya.