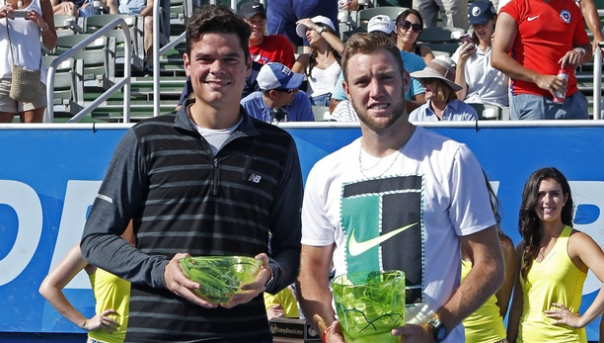 Jack Sock has already won two titles in 2017. (AP)
Jack Sock, who won Delray Beach when Milos Raonic could not play the final because of a hamstring injury, says he wants to keep climbing up the rankings.
The world No. 18 wants to enter the Top 10.
"That's the goal," said Sock. "I'm entering tournaments every week trying to win. I feel, tennis-wise, [that] I'm physically and mentally ready to make that jump. I think my tennis is kind of speaking for myself so far this year. It's a weird way to win a title today, but [I have] two on the year, and my only loss this year is to [Jo-Wilfried Tsonga at the Australian Open]. If I keep going, why not?"
Sock, 24, is 11-1 this year. He won the title in Auckland, reached the third round of the Australian Open, won his lone Davis Cup match against Switzerland and picked up his second trophy in Delray Beach.
Sock has won three titles in his career, all of which were 250s. He improved in 2016, but was unable to best the top players, including against Raonic, Tsonga, David Goffin and Stan Wawrinka. He reached the final of Stockholm, but was defeated by Juan Martin del Potro.
He seems to have made further strides since then.
"I've been playing well," Sock said. "Now I just have to keep my head down and do everything I can to progress."