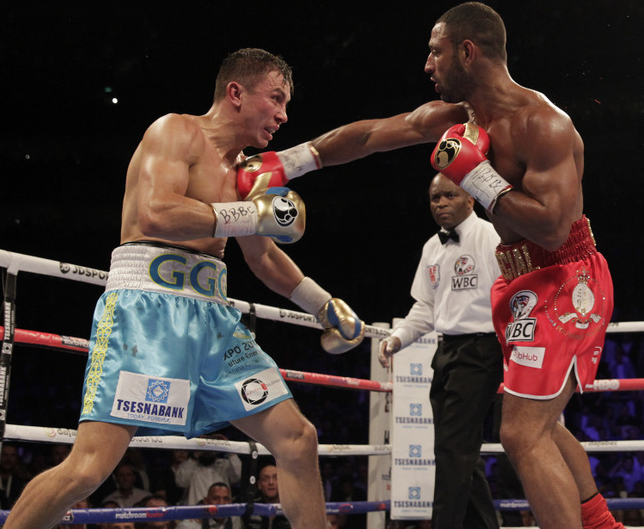 By Scott Gilfoid: IBF welterweight champion Kell Brook says he's going to do a job on Errol Spence Jr. in their fight on May 20 at Bramall Lane in Sheffield, England. Brook is still periodically calling Spence, "Spencer," for some reason. I'm not sure if this is something that Brook intentionally does to get under the skin of the 27-year-old Spence.
I don't think it's going to register with Spence no matter how many times Brook mangles his name. Spence sees Brook as just a guy that he wants to obliterate so that he can take his IBF title from him in front of his own boxing fans. He's not going to get worried about mind games too much
Brook was mentioning Jeff Lacy, as if to compare Spence to him, and maybe himself in the position that Joe Calzaghe was in when he dominated Lacy many years ago. Spence is not Lacy, and Brook obviously has nothing in common at all with Calzaghe. We're different fighters. I hope for Brook's sake he's not counting on Spence being another Lacy, because things could fall apart for him quickly in this fight if Brook assumes that he's got an easy mark in Spence.
"I'm interested in seeing all the hype about Errol Spencer," said Kell Brook to Boxing News on ScottTV. "It's going to be a battle to make welterweight again, but I believe in my own team. I've got a nutritionist that can get me down safely. So I'm looking forward to two challenges – making welterweight again, also defending what's rightfully mine. It's my greatest achievement in boxing, and that's my IBF title. I'm looking forward to walking out at Bramall Lane. That's my football club in Sheffield. I'm looking forward to putting a show on, and showing the world I'm a Special one. I'm No.1," said Brook.
Did you notice how Brook is mentioning how he's going to need to make weight? Brook is looking really plump right now with him having been out of the ring since last December when he was stopped in 5 rounds by IBF/WBA/WBC middleweight champion Gennady "GGG" Golovkin on the 10th of December at the O2 Arena in London, England. I don't know how Brook has put on so much weight I just two months. He looks like he's at least 20 lbs. heavier now than he was during the Golovkin fight. That's bad news for Brook that he's putting so much fat on because he's only got three months left before he has to face Spence on May 20 in Sheffield.
Brook need to start taking some of that weight off right now. But the fact that Brook is talking about his weight right now could be interpreted as a move to try and condition the boxing fans to start conditioning them for an eventual excuse from him if things turn sour for him against Spence. If Brook can keep saying for the next three months about how hard it is for him to lose weight, the fans might give him a free pass by saying that he was weight drained during the Spence fight, and that's why he lost the fight.
I'm hoping for Brook's sake he doesn't resort to using excuse, because it's going to look bad if he can't or won't give Spence credit for the win. We saw how Brook didn't' give Golovkin much credit for beating him by blaming his loss on an eye injury he sustained in the fight. Brook has been saying that the outcome of the fight Golovkin would have been much different if not for the eye injury. Brook is even saying that he was lifting Golovkin off his feet with his punches. I didn't see Golovkin up in the air after being hit by Brook. I didn't see Brook not throwing punches in round 5 after Golovkin hit him with a body shot. Brook stopped throwing punches for the last part of the fight, and had to be saved by his trainer Dominic Ingle.
"Once I do a job on Errol Spence, the Americans are going to know. I don't think I've got the credit I disserve. This is going to be the fight where it puts me No.1 on the pound-for-pound list as the best fighter out there in the world. Those yanks, when I beat Shawn Porter, they really go over the top, the Americans. I think it's really well known that they hyped a job of really. They had with Jeff Lacy back in the day when he boxed Joe Calzaghe. He was the best since shortbread. He came over and he got put in a master class by Joe Calzaghe. He made him look like an amateur. People don't realize that when the real Kell Brook turns up, I'm a monster. I showed that in my last fight against Golovkin with the eye injury. I put a show on," said Brook.
I don't think Brook is going to be able to do a number on Spence at all. I see it the other way around if Brook stands and fights. Doing a number on his opponents hasn't been what Brook has done in his only two fights of his career against quality opponents. Out of Brook's 37 opponents he's faced as a pro, he's only faced two good fighters in my opinion in Golovkin and Shawn Porter. Brook lost to Golovkin, and held Porter all night in clinching him repeatedly in each round without being disqualified. As such, when I hear Brook talking about doing a number on Errol Spence, all I can think is he's going to revert to form and look to clinch him 10+ times per round to stall out the fight.
The bad news for Brook is Spence is VERY strong with his upper body, and he's a very good inside fighter. In other words, I don't think it's going to work for Brook if he chooses to hold Spence repeatedly in every round to try and keep him from throwing punches like Brook did in the Shawn Porter fight. If Brook holds, Spence will wrestle an arm free and hit him in the bread basket with a shot that he might not be able to take. Indeed, I can envision Brook starting with the nonstop holding in round 1, and getting hurt right away with a shot from Spence to the midsection. Spence obviously knows what he's up against in traveling to England to fight in front of a pro-Brook crowd of 30,000 fans on May 20 at Bramall Lane. Spence is going to make sure that he takes the boxing fans, judges and the referee out of the equation in this fight by him scoring a knockout.
"No one has ever done what I did to Golovkin, and he's a big middleweight that walks through everybody," said Brook. "I just think he's going to bring the best out of me, Errol Spence, because he is a talented kid. But no one has seen how good this guy really is. Everyone that attends the fight that night is going to see the fight of the decade, because he's really that good. I want to give fans massive fights. [Saul Canelo] Alvarez is a big name at 154, and Cotto is. Once I announce the news that I'm moving to 154, I'll let the fans more or less pick who I want to fight. I've had a little spar, nothing too dramatic. I'm not shying away from anything. That killer instinct is in me. I'm back. I can see I'm ready. I got in there and I had no problems at all," said Brook.
For the Brook-Spence fight to be the "fight of the decade" like Brook is talking about, it's going to require that Brook not run around the ring or hold all night. He's going to need to stay in the pocket and fight Spence. That would be a great fight if Brook could fight like that for the entire 12 rounds against Spence, but I don't think he can. The reason I have doubts about Brook being able to fight Spence in a war is a couple of things. One, Brook's surgically repaired broken right eye socket that he sustained in the Golovkin fight last December will possibly swell up and close on him from the big power shots from Spence. Two, I don't think Brook is going to be able to handle getting hit to the body for 12 rounds without him dropping for the 10 count after he gets the air knocked out of him. Spence is a much different fighter than the guys that Brook has been fighting his entire career.
Brook has been facing a lot of head hunter type of fighters that rarely throw body punches. Heck, even Golovkin rarely threw to the body in the Brook fight. It wasn't until round 5 that Golovkin hit Brook with a really hard body shot that he put everything into. The body punch that Golovkin threw took the fight right out of Brook, causing him to drop his guard to protect his body. The problem with that tactic from Brook is he left his head totally unprotected from Golovkin's punches for the remainder of the fight. If you watch the fight in slow motion, Brook doesn't even bother trying to raise his guard to protect his head in the last 20 seconds of the fight. The reason why is obvious.
Brook didn't want to get hit to the body again by GGG. When Spence goes to the body of Brook in the 1st round, we may see a replay of the 5th round with Golovkin, with Brook dropping his guard and hoisting the white flag of surrender by choosing not to throw punches. The thing is, Spence is probably the hardest body puncher in the 147lb division. I wouldn't be surprised if Spence can punch to the body with the same kind of power that Golovkin has. Spence might not have Golovkin's power when it comes to throwing head shots, but I think he can punch to the body with the same amount of power. You can bet that Spence and his trainer have watched the replay of the Golovkin vs. Spence fight a dozen times by now, and they're probably licking their chops at the prospects of going to the body of Brook to knock him out on May 20.
"I need to be in Bramall Lane. Even if they said to me that there was a little more money in the pot if I go over to the O2, but it's not about that," said Brook. "It's about passion at Bramall Lane. It's about a dream of mine. It's about walking out. It's about arriving. I've arrived at the world stage. It's about arriving. The Americans are going to watch on to who I am. No better place to do that than Bramall Lane in front of all my fans, and all the fans that come to see the fight. This guy [Spence] is a very good opponent. If you leave yourself open at any stage from the first, second or third to the last second of the 12th, I'm going to want to get rid of him if I see any chinks in his armor. I'm coming to get him. I think it would be a little bit disrespectful to Spence to say I'm going to knock him out in the 3rd round. Basically, it's going to be a war. It's going to be a chess match. Whenever these punches come, they're going to come. All I know is I'll be 100 percent in that fight. On that day and at that time, I'll be firing on all cylinders," said Brook about his fight against Spence.
Fighting at home in Bramall Lane makes sense for Brook. You can understand that move, because if Brook survives the full 12 rounds, he's going to stand a VERY good chance of winning a decision. I think the judges might be influenced by the crowd noise from the fight, and will give Brook a decision win. In fact, I think that's what will happen if the fight goes to the scorecards. But with that said, I don't think Spence is going to allow the fight to go to the scorecards. I see him knocking Brook out so that he doesn't need to be on the receiving end of a controversial decision.