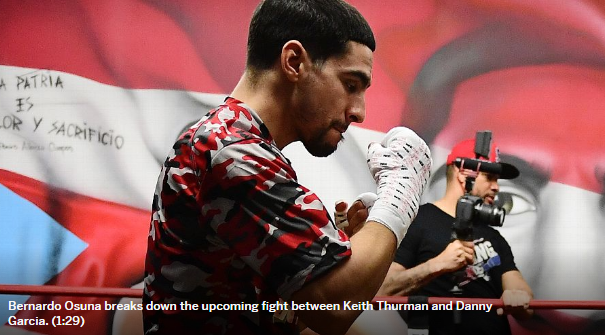 We look back on great fights with reverence and hold them close to our hearts. They are the crown jewels of the hurting game, the magic touchstones we cling to when boxing threatens to sink into total obscurity. They are what keep us coming back for more.
Does Saturday's welterweight title fight between titleholders Keith Thurman and Danny Garcia at Barclays Center in Brooklyn, New York, actually have a chance of being such a fight?
Keith Thurman vs. Danny Garcia
It's a long shot, but you never know. Both are undefeated and in their prime, each certain he is better than the other, and presumably both are prepared to risk all to prove it.
Thurman, a long-haired, flute-playing navel-gazer, is thought of as the better boxer, while Garcia, the left-hooker from Philly, is considered the harder puncher. Thurman is quicker on his feet, and Garcia's counter hook is probably the best punch between them.
Unbeaten welterweight titleholders Danny Garcia, left, and Keith Thurman have been on a collision course for a few years. Ryan Hafey/Premier Boxing Champions
The match is billed as a "unification" fight, but the truth lies somewhere between alternative facts and fake news. Technically, it's a semi-unification, which is a bit like that pizza commercial in which the guy behind the counter hands the customer a pie with a slice missing. Only in this case, it's a couple of slices.
Kell Brook, who has decided to follow his bruising loss to Gennady Golovkin by facing dangerous Errol Spence Jr., also holds a belt. And then there's Manny Pacquiao, who has a trinket of his own and also happens to be ESPN's No. 1-ranked welterweight.
We can blame the deplorable situation on the alphabet organizations and their enablers, but Thurman and Garcia can elevate themselves above the belt-mart level by the quality of their performances.
Boxing's cycle of excellence is like a roulette wheel. Its number always comes up eventually, but you never know how many spins it will take.
Trying to splice the threads of the past to current events is always a risky business. There are, however, some historical precedents (some would say coincidences) at play here worthy of exploring. If for no other reason other than to peek beneath the hem of the hype and see what's real and what's not.
Thomas Hearns, left, and Sugar Ray Leonard, met in a very entertaining welterweight unification fight in 1981. AP Photo
Arguably the best welterweight unification ever was the superb first match between Sugar Ray Leonard and Thomas Hearns, in 1981. It is one of those aforementioned icons of pugilism and as good a rationale for boxing's existence as any.
Back then there were only two major sanctioning bodies [WBC and WBA], which was already one too many but nothing like today's alphabet chaos. Hearns held one belt and Leonard another. Something of significance was settled when Leonard stopped Hearns in the 14th round of a magnificent struggle. There were no loose ends.
The fight had "more twists and turns than could be found in an early O. Henry potboiler," wrote Bert Sugar. In the end, it was a role reversal that won the day. With the fight in the balance, Leonard, the supposed boxer, turned slugger, while Hearns reverted to his boxing roots in a futile attempt to stay on this feet.
"I think that was my defining moment, the pinnacle," said Leonard, years later.
It might also have been the pinnacle of welterweight unifications, a rare instance when everything turned out just the way it was supposed to -- an artistic success and a financial blockbuster.
Oscar De La Hoya, left, and Felix Trinidad were ranked No. 1 and No. 3, respectively, when they met to unify the welterweight title in 1999. Al Bello /Allsport
The same could not be said for the Felix Trinidad-Oscar De La Hoya welter unification that took place 18 years later, Sept. 18, 1999. However, the circumstances were almost identical and there was every reason for optimism.
De La Hoya and Trinidad were ranked No. 1 and No. 3, respectively, in The Ring magazine's pound-for-pound ratings. Both were undefeated with large and passionate followings. The Mexico vs. Puerto Rico rivalry was in full effect. There are no guarantees in boxing, but this one was about as close as it gets.
But instead of another classic, it turned out to be a grossly overpriced sparring session that never even threatened to escalate into a fight. Trinidad was awarded a contentious decision, but there was so little action the high point of the evening came when an enraged Bob Arum pulled the plug on Don King's microphone at the post-fight presser.
The crucial difference between Leonard-Hearns and De La Hoya-Trinidad came down to the fighters' mindsets. It's not that complicated. For whatever reasons, Leonard and Hearns fought to win, Trinidad and De La Hoya fought not to lose. You see it all the time, but it's particularly distasteful in a fight of that magnitude.
"Whatever happened to superstars rising to the occasion? Or applying the stamp of greatness?" wrote columnist Jeff Ryan. "Trinidad looked like a basketball player trying not to pick up a sixth foul," while De La Hoya gave "his imitation of a fourth grader running away from the nerd with cooties."
That's the catch with highly anticipated fights -- when they flop, they flop big time.
At this point in their careers, it's unfair to compare Thurman and Garcia with a foursome already enshrined in the International Boxing Hall of Fame. All the same, a rousing fight would be a meaningful step in the right direction. Not just for the fighters, but also for Premiere Boxing Championships.
The maverick promotional company has been building toward the Thurman-Garcia match since Al Haymon first parachuted into the business with half a billion in his pocket. For a long time the showdown between "One Time" Keith and Danny "Swift" seemed like a mirage. Now it is finally here, the big one -- on free TV. You don't even have to have cable. CBS is broadcasting it live.
Whether it becomes a trend is a different matter, and Saturday night could be pivotal.
The most desired result, of course, would be a ripping good fight with blood and snot flying everywhere, multiple knockdowns and the outcome in doubt right up until the very end.
Garcia and Thurman are still striving to convince us, and maybe themselves, that they can measure up to the legends of the past. Half-stepping won't do it and they know it. Besides, it doesn't seem to be in either man's nature to play if safe.
That's why the guess here is that the fight is liable to be considerably closer to Leonard-Hearns than De La Hoya-Trinidad. Not on the same level, mind you, but in terms of commitment to their cause and readiness to gamble when the time comes. Anything less would be a disappointment.
There's more on the line than a couple of title belts. Due to its availability on free TV, Thurman-Garcia is a significant opportunity to mollify disgruntled old fans and attract new. It's an opportunity boxing can't afford to waste.
We shouldn't expect another Leonard-Hearns. It was a one-off. But a reasonable facsimile would be good enough. And at the very least, providing it isn't a draw, there will be one more slice in the pizza box when it's over.