Feb 27, 2017 8:37 AM ET
Brandon Jennings averaged 24.6 minutes per game for the Knicks in 2016-17.
During their offseason roster overhaul, the New York Knicks signed free-agent guard Brandon Jennings in hopes he could both spark his career and provide valuable backup minutes for the team.
As of this morning, the Knicks are 12th in the Eastern Conference and four games out of the No. 8 spot and Jennings is averaging 8.6 points and 4.9 assists per game in 24.6 minutes for the team. As New York ponders the future of its roster, it will do so without Jennings.
He was waived today to create room to sign free-agent guard Chasson Randle ...
View image on Twitter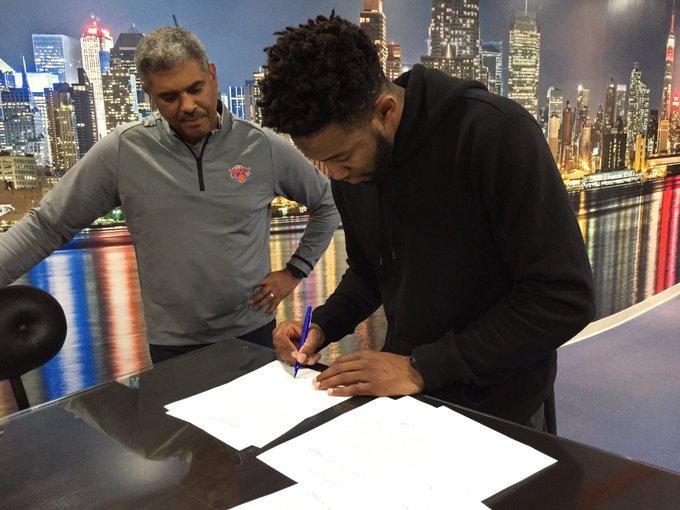 Feb. 27 – The NY Knicks have signed free agent guard Chasson Randle to a contract. Guard Brandon Jennings has been waived.



Jennings' departure and the addition of Randle were first reported earlier Monday by The Vertical's Adrian Wojnarowski ...
The New York Knicks waived veteran guard Brandon Jennings, clearing the way to sign guard Chasson Randle, league sources told The Vertical.

The Knicks' front office and coaching staff hadn't been enamored with Jennings' mindset amidst the team's struggles this season, league sources said, and ownership agreed to pay him the balance of the $5 million owed him on his contract this season.

Because Jennings was waived prior to March 1, if he clears waivers he's eligible to be signed and added to a playoff roster.

The Knicks will sign Randle to a partially guaranteed deal through the 2017-18 season, league sources said.

...

Jennings, 27, was the 10th overall pick in the 2009 NBA Draft. He played four seasons with the Milwaukee Bucks before moving on to Detroit and Orlando. Jennings signed a one-year, free agent deal with the Knicks in July.
Later Monday, the Knicks released a statement about Jennings being waived and the signing of the new addition, Randle:
New York Knickerbockers President Phil Jackson announced today the team has signed free agent guard Chasson Randle to a contract. Terms of the deal were not disclosed. In addition, guard Brandon Jennings has been waived.

Randle, 6-2, 185-pounds, appeared in eight games for Philadelphia this season, averaging 5.3 points over 9.3 minutes, before being waived on Feb. 23. Signed on Jan. 10 by the 76ers, the Stanford University product became the fourth-ever NBA Call-Up of the D-League's Westchester Knicks, where he averaged 20.4 points, on 42.2-percent shooting, over 32.2 minutes in 20 games. Prior to the D-League, Randle appeared in three preseason games for New York before being waived on Oct. 21.

Jennings, 6-1, 170-pounds, was originally signed by the Knicks as a free agent on Jul. 8, 2016. He had averaged 8.6 points, 4.9 assists and 24.6 minutes in 58 games