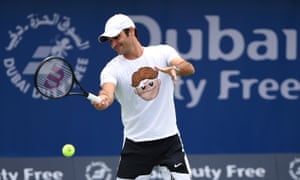 Roger Federer during his practice session ahead of the Dubai Tennis Championship, which he has won eight times. Photograph: Tom Dulat/Getty Images

Not even the ageless Roger Federer was on the Tour when the Dubai championships began 25 years ago but the Swiss, newly decorated as a major champion after shaking up the tennis world in Melbourne, is happy to go into this week's tournament as the hunted again.
"I've had some great years here in Dubai," Federer, an eight-times champion, said after a light beach-tennis workout with Andy Murray, whom he is scheduled to meet in the semi-finals if the results fall as they should. "I wanted to be in good shape and ready for the conditions, so I came early this year."
Murray lost against Federer in the final here five years ago but much has changed for them both since. The Scot, who roared to the top of the rankings as Novak Djokovic faltered on and off the court last year, is world No1 still, though he has had to recalibrate his game after a shock defeat against Mischa Zverev in the fourth round of the Australian Open, while Federer, rejuvenated after taking a six-month break to recover from knee surgery, is reborn at 35, the most unexpected star of 2017 so far.
Murray, who says he has recovered from a minor bout of shingles, opens against the world No47, Malek Jaziri of Tunisia; Federer, seeded No3, has a trickier engagement against the elegant and adventurous Frenchman, Benoît Paire. Dan Evans has an interesting first‑round match against Dustin Brown.
For all that the tone and atmosphere of the tournament – held in the city where Federer has a winter training base – is suitably relaxed, an ATP 500 event that matters but not so much that it invites trepidation, Federer desperately wants to beat this strong field. He will have to go through Murray and Stan Wawrinka, winner of three majors, to do it.
He beat three top‑10 players, including Wawrinka, to win his 18th major in Melbourne but he suffered through most of the fortnight with a groin strain and came from 1-3 in the fifth set of the final against Rafael Nadal, a victory that might be remembered as the best of his career, given the context. Since then he has spent time with his family and resumed light training recently to ease back into the Tour without aggravating his injury.
Advertisement
There was plenty of light-hearted banter in the lead-up, not the least of it when the players told the Tour's website on the eve of the Oscars who they would like to play them on the big screen. "I have no idea who'd play me in a film ... Sean Connery?" Murray responded quizzically (having gone for Ewan McGregor last October). "Not sure if that works, really. There's a slight age difference."
Wawrinka thought Leonardo DiCaprio could do a job; Tomas Berdych opted for Pierce Brosnan (or was it Piers Morgan?); Gaël Monfils chose Denzel Washington; Grigor Dimitrov went for Johnny Depp; Jo-Wilfried Tsonga and Nick Kyrgios said Will Smith; Djokovic, who has taken a wild card in Acapulco, could not decide between DiCaprio and Robert DeNiro; Kyle Edmund gave the gig to Tom Hardy.
They did not ask Federer. There is every chance he would like a crack at the role himself. Everything else in his storied life has unfolded as if it were invented in some Hollywood scriptwriter's office anyway.