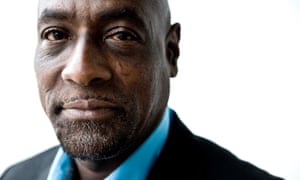 Viv Richards … 'Spending so much time away from home travelling with cricket can put a strain on your married life.' Photograph: Thomas Butle
Interview by Nick McGrath
Friday 27 January 2017 13.00 GMTLast modified on Monday 30 January 2017 12.50 GMT
I had a wonderful childhood in Antigua growing up in a family with three other brothers and no sisters, so you can imagine the little fights and scraps we had. My parents were very religious and they made sure we went to church every Sunday. We'd go to 8am mass, then Sunday school in the afternoon, then we'd go again at 7pm mass and we sang with the choir, which I used to love big time. As a child I sometimes found church very boring, but as you grow older you realise that whatever was said on the pulpit was for the benefit of everyone, and it has helped to steer me with some of my core values.
Sport was a huge part of family life. Where we lived there was a cricket club, where we played every day except for Sundays, which our parents felt was a sacred day. The other kids would pass by and make fun of us, saying our parents were too strict, but when you look at some of those kids who perhaps didn't hold dear the same values, they ended up on the wrong side of the law.
Seeing my dad play so much inspired me. He represented Antigua and the Leeward Islands. I started playing as soon as I started walking. I'd take the pads from Dad and put them on and pick up the bat, which was sometimes much taller than me.
My marriage ending was tough for my parents because of the values they had
My dad was assistant governor of the prison, so there were times when he would bring some of that discipline home. He was the enforcer, whereas my mother, who was a stay-at-home mum, was always the pacifier.
My parents were married for 50-odd years. I lost my mum last year and my dad before that and I do feel that maybe I let their generation down because I didn't last that long in my own marriage. My marriage ending was tough for my parents because of the values they had. Spending so much time away from home travelling with cricket can put a strain on what you're trying to achieve in your married life.
Advertisement
My eldest daughter, Matara, is 34 and lives in Canada. She works in the Antigua and Barbuda consulate in Toronto. I've very proud of her and what she's achieving. Mali, who is two years younger, is a part-owner of an art gallery in Antigua and I'm very happy for him as well. He tried to partake in cricket, but I guess that was always going to be tough for him, following in my footsteps. I did have a chat with him about what he was trying to pursue and how hard it was going to be for him and how much pressure would be placed on him. I guess he didn't quite take my advice. I have a third daughter, Masaba, from my marriage [to the Indian actor Neena Gupta]. I'm very proud of her too; she designs clothes for the Bollywood film industry.
I'm Uncle Viv to Ian Botham's son, Liam, and I've been a sort of mentor to him over the years. I've always been there for him and whenever there was an opportunity to see him play sport, I was there. I'm Uncle Viv to my brothers' children, too, and they're always happy to hear my stories. Kids tend to gravitate to their famous relatives and the limelight and I'm happy to have played that role. I have two grandchildren, which at this twilight point of my life is a welcome sight.
The most important value I've taught my children is respect for every creed, colour or race. When we bleed, we bleed the same blood. I've always taught my kids never to look down on anyone or to not have anyone look down on them. You're as good as anyone that walks the planet, so long as you walk and you breathe and you bleed, and if they don't take on those values, they are not a member of the Richards family.